You may have noticed there are a lot of running streaks going around on social media these days, for those that haven't heard of these running streaks, it is where you run everyday! There are some crazy crazy streaks out there, some spanning many years!
This December I'm attempting a relative short streak, 2 miles everyday for 31 days. I can't say the word streak without thinking of this: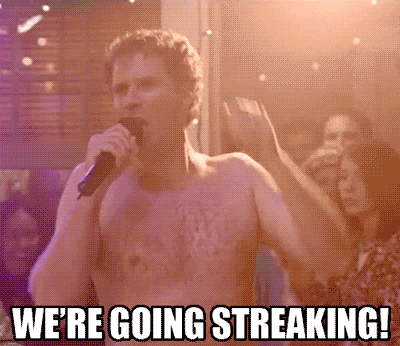 Great film by the way, a must see if haven't already - Old School starring Will Ferrell
The plan is to run 2 miles everyday through December! It will be challenging to find the time and motivation to get the kit in everyday but the challenge has now been set!
Why?
I've had a terrible fitness year for one reason and another! Having a baby means it was always going to be tough to find the time and energy to exercise! I've done a fair bit of running, I trained quite a bit through the summer for the half marathon but the immediate run up to the half was dreadful!
I also set myself a huge goal at the start of the year, I even hashtagged it as #mycrazysub20goal - the goal being to run a 5k under 20 mins. Now although this was always going to be at least a 2 year goal, at the half way point (01/01/2019), I would have liked to have been at least a few mins off the starting position! I describe it as crazy, as it means knocking 8 - 10 mins off my time!!
I think it would be amazing to start the year fit! Running 2 miles everyday will hopefully mean that 2 miles (and maybe a bit longer) is relatively easy!
I'm also keen to see what can be achieved in a month of consistency! I've set myself a goal ... see below
The last reason may sound slighly defeatist but weight loss is very unlikely given the social calendar is getting full of festive celebrations!
Why 2 miles?
I've done mini streaks in the past of 1 milers, and although am a big fan, I wanted to increase to 2 miles, this is still short enough to not be too daunted to get the kit on, but long enough to support my overall sub 20minute goal, by hopefully building a bit of base fitness.
My goal for the month
So within the last year, I ran one of my programmes I offered (4 week programme to PB parkrun 5k - no longer available but contact me if interested in online running coaching). As part of that I did a tough 1 mile intervals session and always remember seeing a 8:56 for a mile. Towards the end of the programme I was doing 8:56 a lot easier, not easy but a lot less tough than that tough day running through Cardiff Bay!
Therefore my ultimate goal (which I'm not sure is even possible in a month, given my current condition) is to run both mile at 8:56 so 17:52 for the 2 miles!
Want to know how it's going?
Most of my updates will be on my Instagram so follow the story there #DecRes
I'm also on Facebook here
I will post a final update here though so subscribe below if don't want to miss it!
What to join me?
No matter what date you read this, feel free to join me for the rest of December or start your month now (I.e.,don't wait for the first of the month) - just let me know!!